Personalized Softball iPhone Cases or iPad and Galaxy
Personalized Softball iPhone Cases
Personalized Softball Phone Case with your Name, Number or Your Text with no added custom charges. Change any of these softball iPhones to a different case.  Cool 1 minute and 25 second quick video of just a few of our personalized iPhone softball cases for older iPhones, iPads, Galaxy cases and more.  We can HELP YOU create a super cute Softball iPhone case or we will make it for you. CALL 239-949-9090 and ASK for BEV.
Super Short iPhone Softball 6 Cases or choose another softball phone case style
CALL 239-949-9090 and ASK for BEV if you would like us to customize your phone with Your COLORS, font style, text etc.  Personalized Softball iPhone Cases or iPad and Galaxy.   iPhone 6 softball cases (or choose Softball iPhone 5 Cases and 4 to 6 Plus): CLICK HERE Cool Softball Phone Cases
 Turquoise Glassy Look Cool Multicolored Softball iPhone 6 Case
CHANGE the Background Color and Text Colors
INSTRUCTIONS to change the background colors or text colors are in the Design Description area (scroll down or CALL for HELP)  on how to change the text color and the background colors to your team colors or favorite colors.  Customizable iPhone cases for girls who love softball.
For many of the softball phone cases, you can change the style to an older iPhone case to the very latest and greatest softball cases and covers. How about seeing how these designs look on an iPad or Samsung Galaxy Softball case.  ASK for BEV if you would like changes to our designs or to place any design on any Zazzle personalized merchandise.
Personalized Softball iPhone Cases or iPad and Galaxy.  Playing hard on the field and off, these GIRLS SOFTBALL iPHONE CASES come in different styles and sizes, customized for your team player or fan!  What sets us apart is our great designs and the ability to personalize with your name or school name, jersey number or year.
Some iPhone cases the background color can even be change to match school or team colors!  That's a home run!  No need for a short stop when you can have it all, even choosing a favorite font from over 300 styles!  Personalized Softball iPhone Cases or iPad and Galaxy.
CLICK HERE to see Softball Bedroom Decor
Inspirational Softball Miracle Girl Video
Girls Softball Miracle by CALLED
Watch this inspirational video with your softball daughter. WARNING: Don't look at some of the vulgar comments. I generally hesitate to recommend a video when people find the need to write vulgar comments but this video is so wonderful for everyone to watch, that we decided to share it with you.
The Case choices include the Barely There iPhone 6, the iPhone 5 and 5S, the military grade Xtreme iPhone case, and the Tough Case Mate.   Most of the cases have recessed areas to protect the screen, and all portals can be easily assessed, and built to withstand impacts. They will one these cool Personalized Softball iPhone Cases or iPad and Galaxy.
Lots of Cute and Unique Softball Gifts for Girls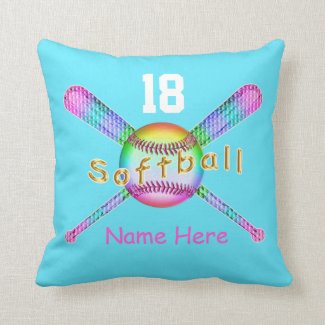 Your
TEAM COLORS

for

Text

and

Background

: 

Matching
Softball Blanket and Softball Pillows
 Types of Softball Phone Cases
The Xtreme model is even built to military specs to withstand water, dust, sand, shock, and vibration.   This one will win the game!  Printed in the USA!  Personalized Softball iPhone Cases or iPad and Galaxy.
Tough Case-Mate, also printed in the USA, has access to all ports, controls and sensors.  It has a flexible liner to absorb impacts.
The colors are radiant and vibrant on all our Girls Softball Cases!  Yes, these iPhone cases are one of a kind, on the field and off, with Your  choice of TEXT!
Helpful Softball Pitching Tips Video
(many girls said this video helped their pitching)  Video produced by Softball Drills

Here is a link I found with many videos for softball tips:  Softball Tips and Drills
Softball Fielding Tips and Tricks YouTube Video
Video by: http://www.isport.com/

The perfect gift idea, cool Personalized Softball iPhone Cases or iPad and Galaxy.  We like to show off our iPhone cases, because they are really COOL!  They are unique and built to last and will make a terrific gift for your softball players.  How about a iphone for Softball Moms player's!  Run those bases!  Our cases come in a range that even includes hearts and turquoise, a favorite with Mom's, and a unique and very popular multicolored softball.  Our designs score!   Play the game on the field and off!
Easy customization, ordering the exact  iphone case you want is an easy hit.  Just CLICK HERE this link to get started! Thousands of Customizable Gifts for Her and Him   Click the CUSTOMIZE IT button on your choice of an iPhone case, and change the text boxes, the font, even the color of font, and choose your background color if the option is available for that design.  And of course if you need help, please call Bev or Linda at: 239-949-9090
You will find many sports gifts and many other unique treasures at Linda's Shop!  You'll score a quick and easy run with no outs!   CLICK HERE to visit our shop with LOTS of customizable sports gifts and gifts for many special occasions
*

ASK for BEV
*

  for FREE CUSTOMIZATION on Any of our designs.  We can create matching gifts too.
239-949-9090
CLICK HERE Softball Phone Cases

Cheap Softball Stuff for Girls Under $5.00 or Select the Premium Softball Keychains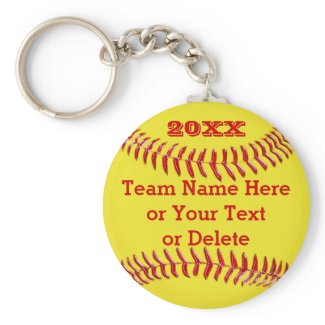 CALL 239-949-9090 and ASK for BEV for free design service.  We will make changes to our designs. Any pieces of our designs can be placed on other iPhone softball cases or other gifts.
Ask for

BEV

: 239-949-9090
Watch our Quick Softball Phone Cases YouTube Video