Cute Personalized Cheerleading Necklaces with her Name
Really Cool Personalized Cheerleading Necklaces for Her.  How to Make Pretty Cheer Necklaces with Her NAME or a short MESSAGE or Delete. Lots of beautiful cheer necklace styles and finishes to choose from. All pendant cheerleading necklaces are available in Silver Plated, Gold Finish and Cheer Necklace Sterling Silver Finish. Select the Shape of your Cheerleading Necklaces to Round, Square in sizes Small to Large.  Pretty Cheer Locket Style.  Call Linda to Change any of the Personalized  Cheer Gifts COLORS or Text: 239-949-9090
Pretty Personalized Cheerleading Necklaces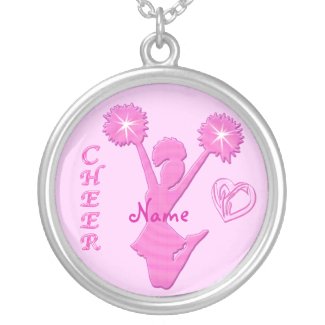 YOUR NAME on Cheerleading Necklaces Pendants CLICK HERE
Fantastic senior night cheer gifts, Christmas and Cheerleader Birthday gifts.
Personalize Cheerleading Necklaces:
Once you are on the Cheerleader Necklaces product page:  Type Her NAME or Short Message into the Text Box(es). You can totally DELETE ALL of the temporary Text, Highlight the temporary text and DELETE.
The text boxes could be to the right of the personalised cheerleading necklaces or below.
First, choose the cheer necklace or locket, Style:
* Select the "Round Necklace", "Square Necklace" or "Round Locket" Shape.
Second select the Metal: (finish)
* Select "Silver Plated" "Gold Finish" or "Sterling Silver" (Prices will be reflected above)
Third choose the Size of the cheer pendants:
Click the Size Drop Down Box
Select:
* Small
* Medium
* Large (Large is not available in Cheer Necklace Sterling Silver)
Cheerleader gifts designed by Little Linda Pinda Designs. Show her how much she means to you. Lovely quality made, Personalization Gifts, Cheerleading Jewelry that is sure to put joy in her heart that she will love to show her friends and cheer team. Great Cheerleading Necklaces.
Cheerleader melts into the Heart Cheerleading Jewelry Pendants
Cute and Personalized Cheerleading Necklaces designed by Little Linda Pinda, just for Cheer Leaders. This is a wonderful way to show them how much you care and how proud you are of their hard earned accomplishments.
Cool Cheerleading Necklaces
Cheer Necklace Sterling Silver, Silver plated and Gold Finishes in Round or Square styles and Small, Medium and Larges Sizes. All are customizable to be made just for her, featuring her name or a short text with a graceful multi faceted colored Cheerleader with sparkling Pom Poms as she leaps high.
Just type in HER NAME or short Text into the Text Box Templates which can be found to the right of the Cheerleading Necklace once you are on the product page.
Cool Cheerleading Necklaces with Her NAME or Your Text or Delete
Personalized Just for YOU and in ANY COLORS
Little Linda Pinda also offers to make ANY changes to ANY of my Designs.  Therefore, Mix and match cheer designs, colors on thousands of Zazzle personalized cheer gifts and party supplies.
If you see a design you like and would prefer it to be on another Cheer Gift:  Please feel free to Call, Little Linda Pinda Designs at 239-949-9090
(It is BEST to CALL or TEXT Linda at: 239-949-9090) or Email: [email protected] with Subject Line "CONTACT DESIGNER LINDA"
Cheer Leaders work and practice very hard and long hours. Perfecting the art of cheerleading is important to them. Many facets of cheer leading: dancing, acrobatics and vocal yells, perfect synchronization, etc.  It is absolutely necessary and takes an enormous amount of practice and zeal to attain.
Over 7 MILLION VIEWS on this 2 Minute and 35 Second CHEER COMPETITION Video
As of Today over 7 Million Views on this Cheerleading State Competition YouTube Video.  The girls are so insinct, it is incredible to watch their routine.  I am fully impressed.
CLICK this Image to View ALL Cheer Gifts Ideas
for Cheerleaders and Coaches
CHEER LEADING actually began in the 1880s.  It was a men's activity only. Cheerleading was used mostly at the college level to rev up the crowds.  Encourage the players of football at Princeton University. It grew and grew through all the years.
Cheerleading finally became a coed activity. Then around until the middle of the 20th century, it became about a 90% girls activity. Now, boys and young men are participating again in this grueling yet exciting sport. It still is predominately girls and young women who choose to participate.
Cheerleaders can easily be hurt. When they are thrown high in the air and if one of the girls who is responsible to catch her coming down makes a slight mistake, it can be disastrous.  Even is he or she is slightly out of place.  What if the girl on top loses her balance?  It takes incredible teamwork to perfect it, but the result is lovely to watch.
Is Cheerleading a Dangerous Sport?
It certainly is but precautions are taken to make it safer. Therefore, Cheerleading considered to be the most dangerous sport that girls are involved in. Many schools now refuse to allow cheerleaders to make pyramids more than 2 ½ levels high.
Cheerleaders usually practice at least 3 to 4 days a week, or more.  Often for a couple of hours each day, even off season.  Besides that, during cheer season, cheerleaders often practice six or seven days a week. Some even twice a day during their sport seasons. As a result, they perfect their sport for showmanship and excitement. Not only at the games but therefore, at cheerleading competition.
Appreciate Cheerleaders
Cheerleaders the Pom Pom Squad, as in other sports, need appreciation and encouragement. Because, of all of this hard work and most noteworthy, is her dedication, a cheerleading gift will be so appreciated!
Please Consider personalized cheerleading gifts by Little Linda Pinda Designs. Great senior night cheer gifts ideas, too.  Create memories for years and years. It will be so fun, someday, for her to show her own children, these cute cheer gifts.
Cheerleading, similarly, Pom Pom, are very demanding sport. Show your cheerleader just how proud your. Give personalized cheer necklace with her name on it or delete the temporary text. CALL Zazzle Designer Linda: 239-949-9090, for HELP.  I can create more cheer gift ideas,  as available. ANY COLORS on thousands of Zazzle gifts, party supplies and products.
In conclusion, coaches and family members, don't need to give physical gifts to show your cheerleaders appreciation. Express your admiration for her favorite sport.  Let her know you see her dedication, therefore, can't even imagine, how difficult it is. Therefore, a pat on the back and kind words will go a long way.
Little Linda Pinda created hundreds of cute cheerleading gifts for cheerleader and coaches. Please click on the link below: