Personalized 60th Wedding Anniversary Gift Ideas
Personalized 60th Anniversary Gifts for parents, friends and your family with Your Text and or Photo.  CALL Linda to customize it for you or to help you personalize it or make changes. CLICK HERE to see ALL 60th Wedding Anniversary Gift Ideas   Linda: 239-949-9090
Personalized 60th Wedding Anniversary Gift Ideas
CLICK the image above to see many more beautiful Personalized 60th Wedding Anniversary Gift Ideas for parents, grandparents, your family and dear friends. We also designed gifts for 60th wedding anniversary and 60th wedding anniversary party supplies that do not require any personalization.
60th Wedding Anniversary Clocks
1 Text Box Template to type in 3 Lines of Special Anniversary Message or Your Text.
Couple's Wedding and or Anniversary Date, their Names and Your TEXT or Delete any or all of the text.
You will be pleasantly surprised when you see how nice these Custom Anniversary Gifts are and reasonably priced too.
60th Wedding Anniversary Gift Ideas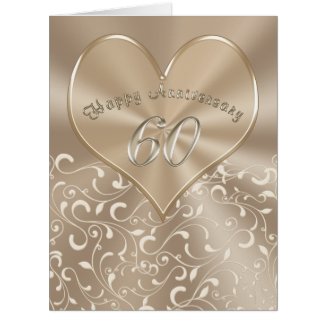 BIG or Choose Regular Size 60th Anniversary Cards
Personalized Anniversary Plates – Porcelain

4 Lines of YOUR TEXT or Delete.  Gorgeous Anniversary Plates for the most special anniversary they've ever shared.  It is so incredibly wonderful it deserves to be recognized.  Give a gift that doesn't take up room.  Plates can be hung on the wall or placed on plate holders.  Wait until you see the smiles, especially the sixtieth anniversary couple. They will love the personalized 60th anniversary gift.

Sixtieth Anniversary Pillows
Couple's PHOTO and YOUR TEXT
Call Linda to Add Your Photo and Text for you
LOVERS MUGS with Couple's NAMES
Representing how 2 separate lives joined together as 1
The other side shows the separate Taupe Hearts with a tinge of golden color.
The Front shows the Two Hearts Joined as One with their Names or Your Text below.
I can create these in any Color and Text.
Lovers Anniversary Mugs
They will love sharing their morning Coffee or Tea in these special personalized anniversary mugs.  Please feel free to contact me, Little Linda Pinda, to create a super special and memorable anniversary gifts for you and your family.  These mugs are my best selling in the 50th anniversary gifts, I finally created them for 60th wedding anniversary gift ideas.  Any gift can be change for ANY YEAR anniversary.
Photo Anniversary Gifts for Couples Married 60 Years or I will redesign these anniversary clocks for ANY YEAR in ANY COLORS.
Zazzle has an impressive A+ Better Business Rating,
100% Love it Money Back Guarantee
60th Anniversary Cake Toppers to signify this wonderful and very special day. Subtle taupe platinum color.  I can create this with your parents or grandparents names too. See the Pinterest 60th Anniversary Cake Ideas below.  Call Linda: 239-949-9090
What I love about this 60 wedding anniversary cake design is the glittery looking a bit like diamonds, the soft roses and how it goes perfectly with the designs I've created for 60 anniversary gifts and party supplies. Stunning is the word that comes to my mi
nd.
CLICK Here to see this Gorgeous 60th Anniversary Cake on Pinterest
Cake Website with 26 Elaborate Cake Designs
Lovely neutral tones for most decors.  Zazzle will send directly to their home or you can it bring to the 60th anniversary party.  Type their Names, Date(s) and or Anniversary Message into text box templates located to the right of each gift on the product page.
What is the Traditional Symbol for 60th Wedding Anniversary?
Diamonds are the traditional Sixtieth Wedding Anniversary Symbol and 60th Anniversary Gem Stone.  In light of this, if you don't wish to give diamonds, I created gifts with a gorgeous and rich Platinum look.  This neutral coloring lends itself to many various decors.  The clocks can go in a variety of different rooms, such as the living room, bedroom and kitchen.
Did you ever think they might love to have a clock in their bathroom to keep an eye on the time.  I FINALLY made myself a Zazzle anniversary clock for my bathroom.  It makes it so much easier than trying to "judge what time it might be".
The Sixtieth Anniversary Pillows will be wonderful in the couple's bedroom or living room.  They will be so proud to show off these beautiful gifts from their dear friends and family.
Although these gifts are not the traditional 60th wedding anniversary symbol or gem it reflects the elegance of platinum look.  A silvery golden tone which lends itself to many decor situations.
I think most people could use a clock in a room that doesn't have one yet. I just created a clock for my bathroom with these tones remembering my husband and my anniversary of twenty two years. Taupe and platinum are one of my favorite decorating color combinations.
So, instead of giving diamonds as a 60th anniversary gift, these are nice and memorable gifts.
Personalized 60th Wedding Anniversary Gift Ideas
What is the Traditional and Modern 60th Wedding Anniversary Symbol?
Diamonds. Yes, diamonds are both the traditional and modern wedding anniversary symbol. Diamonds are also the modern and traditional wedding anniversary symbol for 75th anniversary.
CLICK HERE to see ALL 60th Wedding Anniversary Gift Ideas
Thank you for visiting our 60th Wedding Anniversary Gift Ideas article.  Please feel free to contact me if you would like me to create a 60th anniversary gift for you.  At this time I am offering a free design service and you are not obligated to purchase the gift if it is not meeting your expectations.
Unique and affordable sixtieth anniversary gifts that will be extra special for a wonderful memory of their big day.
Little Linda Pinda, LLC
239-949-9090
These are beautiful 60 wedding anniversary traditional gift ideas for their special day. If you need any help creating your personalized sixtieth wedding anniversary gifts or need changes, call Linda at:
239-949-9090
Save
Save