Customizable Christian Bible Verse Pillows and Decor
Customizable Christian Bible Verse Pillows and other lovely Personalized Christian Gifts and Decor with YOUR TEXT or favorite Scripture Verse. You can also select Christian Gifts that are already done for you.   See All Personalizable Gifts CLICK HERE   CALL Linda to make Changes for you at no extra cost: Little Linda Pinda: 239-949-9090
Bible Verse Pillows
CLICK the IMAGES for Prices and Details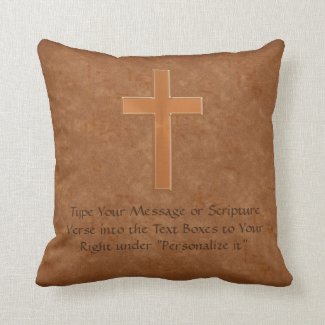 Type in Your Favorite Scripture Verse(s) on the FRONT and the BACK in the template text boxes located to the right of each Christian Pillow below "Personalize it".  You can Delete any or all Text.
Faux suede brown accent pillow is are wonderful inspirational christian gift ideas for friends and family.  Christian Wall Art coordinates beautifully with the Bible Verse Pillows.  Share your favorite scripture on a beautiful Christian gift.
 CLICK HERE to view ALL of Linda's Customizable Christian Gifts
Gifts for Pastor Appreciation Day
Burgundy and Gold Monogrammed and Your Text with Vines will be wonderful Pastor Appreciation Day Gift Ideas. Change burgunday background and gold text to any color or call Linda to make design changes for you.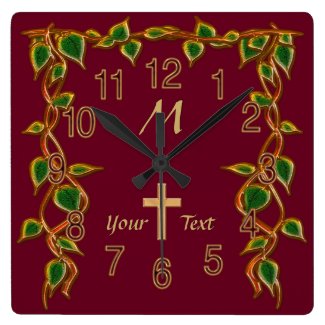 Bible Verse Wall Art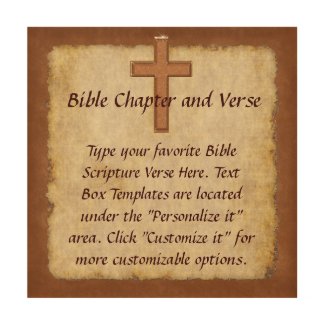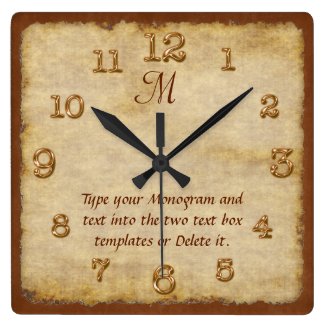 To Personalize it, just type YOUR TEXT or favorite Bible Scripture Verse into the Text Box Templates which are located to the right of each of the Christian Gifts under the "Edit this design template" area.  ALL of the text can be CHANGED.  Just Highlight the temporary text and delete or type in YOUR TEXT.
Joshua 24, 15And if it seem evil unto you to serve the Lord, choose you this day whom ye will serve; whether the gods which your fathers served that were on the other side of the flood, or the gods of the Amorites, in whose land ye dwell: but as for me and my house, we will serve the Lord. King James Version.
SCROLL Down to See LOTS more Customizable Christian Gifts
While you are visiting our site, please enjoy my mom singing:
"In the Sweet Bye and Bye Hymn"  YouTube Video
YOUR MONOGRAM and Short Scripture or Keep "We Will Serve the Lord"
Christian Wall Clock and Glass Cutting Board.  I would love these in my home. I get very excited when I create a new design and it turns out so lovely. Giving  customizable gifts makes it more special and memorable. I love the faux suede and antique paper look for the background.  It sets off the golden numbers beautifully. There are so many occasions these would be great gifts. One of my first thoughts was to give Personalized Christian Wedding Gifts and then Housewarming was my next thought.
Bible Verse Pillows with 3 Text Boxes for Scripture, Reference and
Your Monogram / Initials on the Back.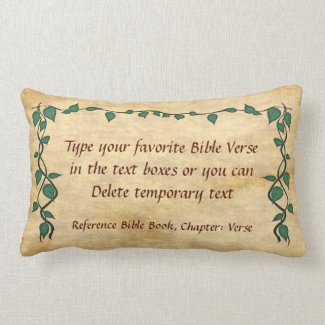 I loved creating these original Custom Christian Gifts.  They will make lovely Personalized Christian Wedding Gifts.  How wonderful would this be to give someone for New Home Gift Ideas.  The soft neutral tones will go in with many decor. The background replicates old vintage antique paper. The vines have a special artistic crackling effect.
Psalm 28: 7
Psalm 28: 7
The Lord is my strength and my shield; my heart trusted in him, and I am helped: therefore my heart greatly rejoiceth; and with my song will I praise him.
Here is our Christian Merchandise Category of Custom Gifts
The Bible gives us strength and comfort in times of need. After we go through something that the Lord has seen us through, God can use us to help someone else going through similar circumstances.  During a very difficult time in my life, I remember knowing God was going to help me and thanking Him ahead of time.  God gave me little blessings to help build my faith. As it turned out, what looked little to some were HUGE faith builders for me.
We need the Word deep into our hearts and soul so the scriptures will be there when we need them. God has blessed us with so much beauty in our world to enjoy.  Even this memory of me and the baby tigers still fills my heart with a joy I will never forget. Can you just image that someday we will be able to rest along side the King of Beasts, the great Tigers and the scariest animals you can think of when we are in heaven.
Also imagine knowing exactly what animals are thinking. That is my mom's desire when she goes to heaven.  She wants to know what her little Billie and her other beloved pets were thinking. Think of the joys awaiting us.  Thank you Lord for the hope and the joy of heaven. To look forward to no more pain and sorrow.  No more physical or emotional suffering for all those in the Glory of God.  Thank you Jesus!
I LOVE this verse. Just think about what God has prepared for us.  We can't even image how wonderful it will be. I hope these scriptures are as much of a blessing to you as they are to me.  God Bless You and share the joy and the Word with someone.
1 Corinthians 2:9
9 But as it is written, Eye hath not seen, nor ear heard, neither have entered into the heart of man, the things which God hath prepared for them that love him.
Bible Verse Pillows to ADD YOUR FAVORITE Bible Verses.
Thank you for shopping with us.  I hope you enjoyed our Personalized Christian Gifts and Bible Verse Pillows and Clocks.  I've created many more Original Personalizable Gifts for so many occasions.  Lots of personalized sports gifts too.  By visiting my personalizable gifts shop, you will see many more Christian gifts and regular gifts for everyone.  What beautiful and uplifting Custom Gifts for Christian Friends.