Basketball Pillows for Girls
Personalized Basketball Pillows for Girls Basketball Bedroom Decor. Matching Basketball Blanket too. ADD Your NAME and or your  favorite Jersey NUMBER by typing them into the TEXT BOX(ES) below the "Edit this design template" area on the product page. Change the text and background colors on many of the pillows or CALL Linda: 239-949-9090.    CLICK HERE for More Customizable and Personalized Basketball Gifts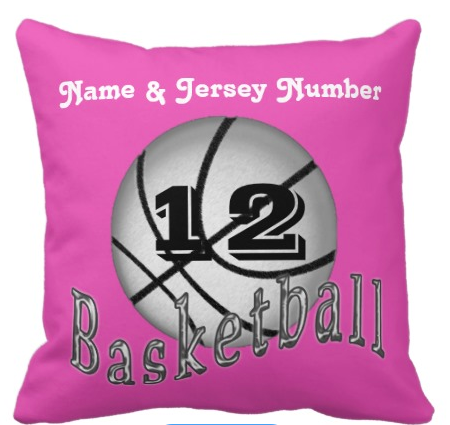 Basketball Pillows
Basketball Pillows are available in 3 various sizes.  Lumbar Basketball Pillows Style and Square Pillows.  The more affordable pillows are a Polyester Blend and the higher priced pillows are made with a Grade A Cotton.
Customize Basketball Pillow just for her.  These Basketball Pillows make great Basketball Gift Ideas.  Girls will love these Personalized Basketball Room Decorations for Birthday and to celebrate the end of the season.
Here is the Back View of this Hot Pink Basketball Pillow for Girls Basketball Decor.
Basketball Rooms for Girls
Cool Basketball Gift Ideas for Girls.  You will be able to see the Front and the Back View once you are on the Zazzle product page.  Click on the view image to see.  Click the "X" like icon near the upper left side from the Basketball Pillows to see a really large close up view.  It will have a temporary light Zazzle image over that image to keep people from using that image.
Type in YOUR Basketball NUMBER or MONOGRAM on many of the designs. Basketball Pillows for Girls make great Basketball Room Decorations and they are even customizable with her NAME and Jersey NUMBER.  They come in a variety of different colors Pink, Purple, Radiant Orchid or ANY COLOR or TEXT you wish.
Small to Large Fleece Basketball Blanket
Personalized TEXT and COLOR
Back

of Basketball Pillow for Girls Bedroom
Purple Basketball Pillows
Basketball Pillows make great Gift Idea for that very special person.  I've created ornaments, watches, shirts, device cases for iPad, iPhone, Samsung, and soooo many more customizable basketball stuff for everyone, including Coaches. The Cute Basketball Pillows make great Basketball Birthday Gifts.  Here is the Link if you wish to view ALL of my Personalized Basketball Gifts for Girls, Boys, Men and Women. CLICK HERE for More Personalized Basketball Gifts for Players, Fans and Coaches
The solid background colors  can be changed by Clicking on the Blue "Customize it" Button  under the Product Image on the Zazzle Product Page.
Now look to your right underneath the "Customize it" area and Click the  "Edit" Drop Down Box and at the very bottom, select "Background" and then select a color box.  Click the "Advance" word if you wish to tweak the color or add your own Color Code.
All Basketball Stuff
CLICK HERE for More Customizable and Personalized Basketball Gifts
In 1976,  WIAA,( Wisconsin Interscholastic Athletic Association) sponsored a girls basketball tournament.
Class A Madison West, Class B Lancaster and Class C Marshall were the first Championship Teams.  Neenah, Bloomington and Clinton were the runners up.
The Championship Tournament was at the University of Wisconsin's Field House which is located in the state capitol, Madison, Wisconsin.   In 1998 they began holding tournaments at Kohl Center. In 1999, 2000 and then 2002 it went back to the University of Wisconsin Field House.  by: Girls Basketball History by WIAAWI.org
Original Creations by Little Linda Pinda Designs
For HELP or SPECIAL REQUESTS or Changes to ANY or my Designs or to have ANY Design Placed on a Different Product:
CLICK "CONTACT" or CALL 239-949-9090
LittleLindaPinda@gmail.com Please write in the Subject Line "ZAZZLE"
Please BOOKMARK my Zazzle Store to see NEW DESIGNS Weekly:
CLICK HERE to SEARCH Zazzle Custom Gifts
I hope you will visit my Zazzle Shop and enjoy the huge variety of Personalization Gifts.  Cute Animals,  Customizable Gifts, Watches and sooooo much more.  Thank you for taking the time to visit here today, I really appreciate it.