2014 Personalized Calendars with Your NAME and PHOTOS
2014 Personalized Calendars with Your NAME and PHOTOS and IINSTRUCTIONS in the Product Description on the Calendar product page and here, below. Lots of Text Boxes to ADD YOUR OWN TEXT underneath YOUR PHOTOS. This is a great design that I just created. I designed it similar to the Photo Calendar my daughter is buying us family members for Christmas. I can't wait to get it. Suede look rustic calendar with wood look 2014 and US Holidays. You can choose from Small, Standard and Huge Calendars and choose the wire color too.How to Make a Calendar with Your Own Pictures and ADD Your Text.  I just loved creating this original designed Customizable Calendar.
Look for Bulk Discounts on quantities of only Two or More Calendars with Larger Quantity Discounts too. Awesome Christmas Gifts because it will mean so much and be packed with memories. If you live far away from your family, you will catch up with the special moments through the year.
To see ALL of my Calendars
Family will LOVE seeing Your Family Vacation Photos, Holiday Pictures, Sports Photos and more. The Quality of the Paper is Heavy Paper Stock with OUTSTANDING Printing Quality, Second to None. Zazzle is world renown and their Mission is to give you Quality Products, Crystal Clear Printing and Fast Service. I was amazed when I saw how detailed the printing is. I designed a Bible Scripture Magnet for my mom to give her Bible Study friends. The tiniest little black lines were Crystal Clear.
100% LOVE IT GUARANTEE and an impressive LESS than 1% of their products are ever RETURNED. This and the A+ BBB RATING, Better Business Bureau, is what stood out to me. How many companies can boast less than a 1% Return Rate.
I love ordering gifts from Zazzle for my out of town family too because I can have Zazzle send the gifts directly to their home and the service is fast for most products. (Some of the products could take 2 to 3 weeks to arrive), but most products are shipped within 24 hours from Zazzle and arrive within DAYS.
Below the <b>1. "Personalize it" Box.Click the tiny blue word "Change" to Upload Your PHOTOS.  Type YOUR TEXT in the TEXT BOXES.
Here is a quick description on making your own calendars with pictures. Detailed INSTRUCTIONS BELOW and on the Product Description Page.
This Calendar is proportioned for 6 x 4 photo shapes in both VERTICAL and HORIZONTAL Photos.  More Horizontal Photo Templates.  Also, many TEXT BOXES  (Holiday Greetings Boxes such as "Happy Valentines Day can be changed to YOUR TEXT) to Type in YOUR SHORT PHRASES or NAMES in the TEXT BOXES located under the  <b>"1. Personalize it"</b> Box.  Scroll within this box to see ALL of the IMAGES that need to be Changed by Clicking on the little blue word "Change" underneath each Temporary PHOTO HERE Image.  Some calendar months have 2 or 3 image template areas.
In the  2. "Choose Your Style"  Box. Click "Choose your Style".  Select the Wire Color.  White is default.  Click "edit in design tool to choose your Calendar Number Grid Style and Start Date and End Date.
I recently designed a similar calendar for my daughter to give us family members for Christmas.  I loved that design so much that I decided to make one similar to it for everyone.  Some of the months have handsome frames for YOUR PICTURES and little cute Holiday Pictures.  Uncheck Box if you DO NOT want Holidays and Events Displayed.  Holidays Display is the default setting.
MULTIPLE PHOTO CALENDAR with TEXT BOXES to Change to YOUR TEXT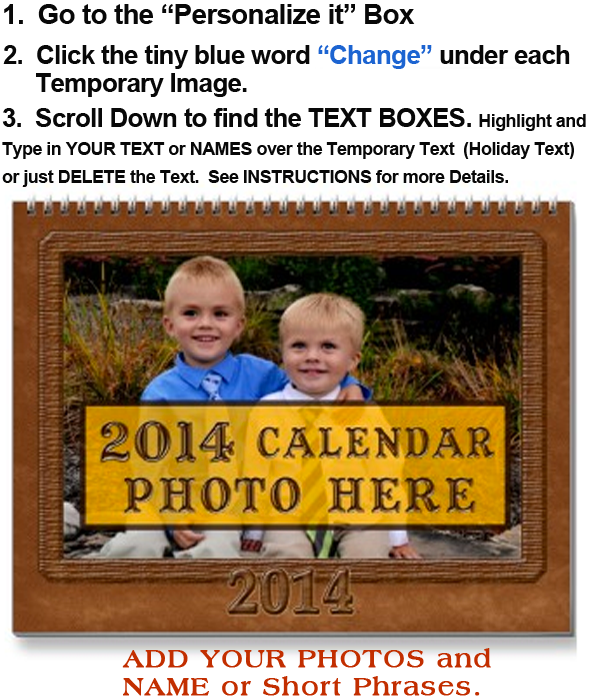 Personalized PHOTO Calendars 2014
BLANK 2014 CALENDARS
Quality Paper for awesome detailed printing. Blank Calendars BULK Discounts on ALL Zazzle Calendars.
Dachshund Calendars or Make Your Own Calendar 2014 with Your Photos
Keep these cute little Dachshund Photos or Upload Your PHOTOS by Clicking on the tiny blue word "Change" under each Dachshund Photo, once you are at the Product page. This is by another Zazzle designer. Cute Doggie Calendars.
Floral Calendar to Personalize with YOUR NAME on the Cover
This is a Pretty Calendar just like it is but you can change every Image Month to YOUR PHOTO plus ADD YOUR NAME to the Cover in the Text Box when you Scroll Down within the 1. Personalize it Box. This 2014 Personalized Calendar is also by a different designer. I am choosing some of my favorite Personalized Photo Calendars to feature.
2014 Doggie Calendars
This is not a Personalized Photo Calendar but a Dog Photo Calendar that is not customizable but very cute doggy photos.
Please don't hesitate to call Linda for help or if you would like me to make any changes to any of my designs. You will love creating these Personalized Wall Calendars but you will love it even more when you receive it.
FUN Personal Story hearing my daughters reaction to seeing the Zazzle Custom Calendar
Here is a cute story about the calendar I made for my daughter to give to not only me but other family members.  She sent me the Photos vis Photo Stream.  I loved the calendar that I made so much that I created the Rustic Calendar for my customers too.  Well, I told her not to look at them until we come up there for Thanksgiving but I had to have her look in her package to see if another Zazzle product was shipped to her that I did need her to see.  She tried hard not to look and all of a sudden I hear cute excited "OOH, OOH's" coming from her and I said, don't look.  She tried not to but caught a tiny peek at them and excitedly squeeled, "they look so good".  It was fun hearing her excitement and I can't wait to see her reaction when they look at the calendars when I go up there tomorrow.
INSTRUCTIONS on Creating Your Own Calendar
DETAILED INSTRUCTIONS on How to Make a Calendar with Pictures or buy the calendar blank.
How to create 2014 Customized Calendars and Customized Calendars with Photos:
Within the "1. Personalize it Box:" (to the right of the 2014 Calendar).
Click the Tiny Blue Word "Change" below each Month.
Follow prompts to "Upload New Images" and or "Select Images to Upload".
Click "OK"
Repeat for Every Month including the COVER of the 2014 Personalized Calendar.
CLICK  "Choose your style":
Choose Calendar SIZE and Pages: Click the Small, Standard or Huge Icon for Calendar Size.
Click on the little Color Box to Choose your "Wire Color".
To Choose Your STARTING and ENDING MONTH:
Click the teeny tiny blue words "edit in design tool…" then Click the teeny tiny blue word "edit" which is located underneath the color boxes.
Select your TIME FRAME Starting and Ending MONTHS:
Click on the First Drop Down Box to choose the First Month of your personal calendar and the Second Drop Down Box for your last month. This is where you can make 1 month to 24 month calendars.
2. "Choose your style" 13 Personalized CALENDAR Styles to choose from:
Click on the little Round Select Buttons to choose the style of your 2014 calendars. Classic Frameless is shown.
CLICK the Blue Button "Make it Now"
Choose the basic style and layout plan to make your own 2014 calendar. Customized calendars 2014.
Click on the "Customize it" Blue Button, then the "Add Image" Button if you have Artwork or Photo or "Add Text" Blue Word
Feel Free to Call Linda at 239-949-9090 or
Email Little Linda Pinda at LittleLindaPinda@gmail.com  Subject line ZAZZLE HELP so I don't miss you.
Questions or Special Requests on Custom Personalized Calendars with Your Name and Photos. Making Memories that will last in their heart and frame the pictures because the printing is that great!  I can make Changes to ANY or my Designs or to have ANY Design Placed on a Different Product.
Original Creations by Little Linda Pinda Designs
2014 Personalized Calendars by Little Linda Pinda. Feel free to call me. All of the Calendars are Start Any Month Calendars.
Search Here ZAZZLE HERE:
CLICK HERE to SEARCH ZAZZLE for Special Gifts