Personalized Volleyball Coach Gifts from $4.00 and Up
Volleyball Christmas Gift Ideas.  Personalized Volleyball Coach Gifts from Under $4.00 and up. Most of the Volleyball Gifts for Coaches can be PERSONALIZED with their name, monogram, short message, the team name and year, etc.  Cool Personalized volleyball keychains, mugs with or without your team photo and more.  When did volleyball start and the history of volleyball, below.  CALL me, Little Linda Pinda: 239-949-9090 EST   ALL Volleyball Gifts for Coaches and Players CLICK HERE
Personalized Volleyball Coach Gifts
[/twocol_one_last]
I can HELP you create these personalized volleyball coach gifts.  I can also create new designs or different products. Volleyball Gift for Coaches and Players.
Two very cool volleyball coach gift ideas that can be Customized with their Name or keep it as you see it.  The first coach mug is customizable with your Team Photo and the coaches Name, Year or short text.  Type in your message and text into the easy to use text box templates and upload your photo by clicking "Change" below the temporary image.  I put instructions in the "Read More" area of the product description.  For multiple coaches, personalize ONE mug at a time. You will then Add it to the Cart and then go back to customize the next volleyball mug.
Most Valuable Coach Award
Personalizabled Volleyball Coach Gifts.  Type in your coach's Name and the Year or whatever text you wish in the 3 Text Box Templates.  Change "MVC" for most valuable coach, "20XX" for the Year and "Name Here" or delete any of the unwanted text.  Your volleyball coach will be so proud to show off their award.  This will be a memory they will cherish for all time because you customized it just for them.  Makes a great Christmas Gift.  Many more personalized volleyball coach gifts and for player's too.
Cheap Volleyball Gifts for Girls
More Personalized
Volleyball Coach Gifts Ideas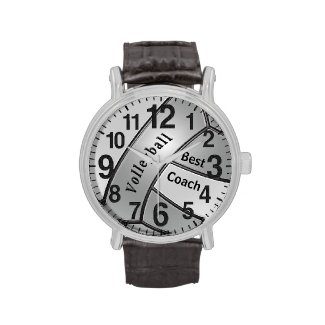 Customizable Volleyball Watch for "Best Coach"  

CLICK HERE
Select a different Men's or Women's Watch Style.
I can create similar volleyball coach gifts for you.  If you see something that you like but wish it had some changes or was on a different product, please Call or Text me, Linda at: 239-949-9090 or email: [email protected].  Calling is fastest and the best way to get a hold of me.
Personalized volleyball ornaments for coaches with a pretty turquoise satin look background. Buy the Ornaments in Bulk.  The font is so cool with a glassy looking beveled appearance.  Type in the coach's name or type in a little message of appreciation.
Click on this Volleyball Stuff Store Image for hundreds of
Personalized Volleyball Gifts for Coaches and Players
When did Volleyball Start?
Here is a brief history about volleyball
William G. Morgan was born in Lockport New York in 1870. He graduated from college in 1894 and became the physical director. The new game of basketball was too difficult for the businessmen to participate in yet popular with children.  Morgan needed to come up with an athletic game older men could play that didn't have as much contact and bumping into each other.
He wanted it to be a physical game that could be played after work or on their noon lunch break and provide excercise while avoiding the rough jolting about that occurred with basketball.  He wanted it to relax the players at the same time without being so agressive and still be considered a "Sport" with NO physical contact.
So, from basketball, he used a ball, from tennis he used the net and from handball, the ability to play off the walls and over hangs. He borrowed the concept of innings from baseball.  From this conglomeration of sports,  William G. Morgan invented Mintonette, today known as Volleyball.
Even though the game wasn't completely thought through, they were able to still bring a crowd out to watch it.  The games were held in Springfield, Massachusetts in 1896 at the YMCA Physical Director's Conference.
Dr. Alfred Halstead, a Springfield College professor, thought of the two word name, "Volley Ball".  That is the name that came to be, but as one word verses two words.
Volley Ball was very different from what we know of as volleyball today.  The court was 25 feet by 50 feet with as many players as they wanted hitting at the ball as many times as they wanted and over a 6 foot 6 inch tall net. It became very crowded.
Volley Ball was divided into 9 Innings with up to 3 outs or serves that didn't make it over the net.  Other players were allowed to help the serve over the net.
They needed to change from a basketball to a lighter ball because the basketball was too heavy for Volley Ball and the basketball bladder was too soft, thus, a local sporting merchandise manufacturer, A.G. Spalding designed a rubber bladder incased in leather and measured 25 inches in it's circumference.  And that is how Volley Ball was invented.
Above Information credit to: VolleyballHistory.org
Volleyball History by WWLP.com TV News
Thank you so much for shopping with Little Linda Pinda. We have hundreds of cool personalized volleyball gifts for coaches and players.  I created many more unique volleyball gifts for coaches, players and will continue to design more.  Please Bookmark http://www.Zazzle.com/LittleLindaPinda*  to stop by in the future to see what's new.  I create and design new original personalizable gifts nearly every day.  I really do appreciate it and Thank you.
Click this Picture of Me and the Baby Tiger to visit Zazzle.com/LittleLindaPinda*
Thank you for visiting our Personalized Volleyball Coach Gifts article. Feel free to call Linda from 9:00 AM to 9:00 PM EST Monday through Saturday and Sunday afternoons, as we go to church in the morning.  Linda 239-949-9090 EST
Please allow a 1 to 3 days designing time plus Zazzle's processing and shipping time.  Personalizable gifts are worth the wait. It will make someone's day a bit more exciting.