Drawing Tablets for Computer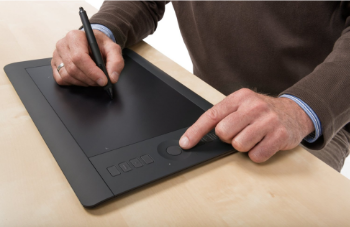 You will LOVE owning Wacom Intuos Graphics Tablets. By far the Best Digital Drawing Tablets are made by Wacom. I researched for a month before I decided on which one to buy. See Customers Reviews and Where to Buy Graphics Tablets. Amazon Wacom Prices are like a SALE everyday.
Thank you so very much for shopping with Little Linda Pinda as I am an Associate for Amazon and Zazzle and earn a small commission when you shop here.
I bought my Wacom Intuos Tablet to create Custom Designs for Zazzle and Photo Editing. I own the older Intuos 5 and would LOVE to have the newer Wireless Wacom Intuos Pro Pen.
See 8 points on how I decided on Which Graphics Tablet Should I Buy, Wacom Tablet Sizes and Wacom Prices vs Amazon Drawing Tablets Prices.
You can read My Wacom Intuos5 Reviews and see my Tracings from Photos and Sketches Here:
New Wireless Wacom Intuos Pro Pen Reviews and also See My Very First Sketches
Call Linda Feucht
Little Linda Pinda, LLC
239-949-9090
LittleLindaPinda@gmail.com

Showing the single result